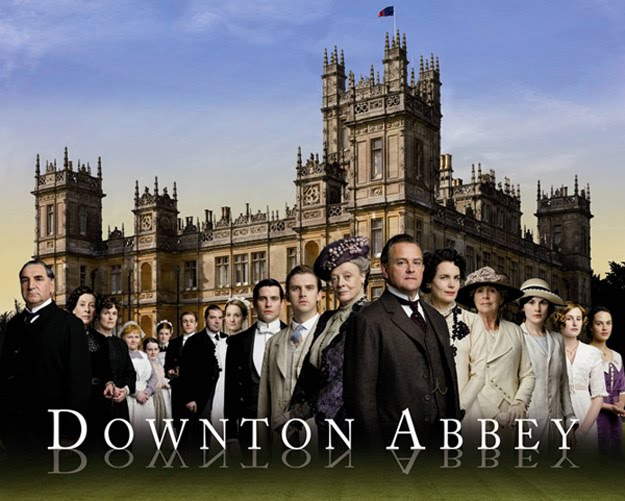 My husband and I discovered
Downton Abbey
last year on Netflix streaming. We watched Season 1 and really enjoyed it. I kept watching for Season 2 to be put on but they never were . . . so for Christmas my husband bought me the DVDs of Season 1 and 2. Now, we didn't get around to watching Season 2 before the premiere of Season 3 this past weekend (shush - don't tell me!), but we did start watching this week. There we were, watching the first installment of Season 2. Everyone is off to war, Mary and Matthew have made peace,the household is in controlled chaos. A scene comes on when Matthew is having an impromptu tea with Thomas (the little weasel), and they discuss Thomas's chances of getting put on duty back at the hospital in their village. Thomas learns he doesn't have a chance until he leaves the front - and that doesn't happen unless you are dead or injured. A bit later you see him going out along the trenches, nervous and scared. He lights a cigarette and in that instant - I KNEW what he was going to do. I quickly blurted it out to my husband so he'd know
I was right.
"Sometimes soldiers would put their hand up so that they would get shot at and lose a couple of fingers or injure their hand so they could go home." My husband said, "what?" and in that instant, Thomas held his lighter up (his left one since he is right-handed) and in a flash a bullet comes right through his hand.
How did I know this you might ask (as my husband did). Am I a student of history? Have I absorbed World War I trivia like a starfish takes in water? No, I am a proud mystery reader! I have been reading
Anne Perry
books for many years. My favorite series was the
Inspector Pitt
series, followed by
Inspector Monk
. Alas, she moved on and is now writing a
World War I
series - and in the second book,
Shoulder the Sky
, one of the side stories is to find out if a young soldier purposely got his hand shot in order to leave the front.
It just goes to show that even reading fiction can be quite educational and useful in unexpected circumstances.