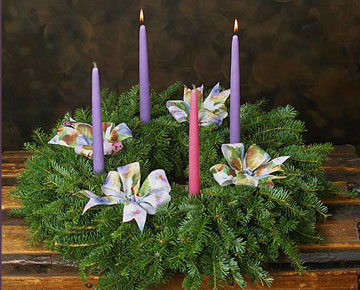 Today is the Second Sunday of Advent (even though it is the first Sunday of December). Here is a traditional reading that is presented during the lighting of the second candle.





Our peace is found in God and in his son, Jesus Christ. John the Baptist, and all the prophets remind us, that to receive peace we must be prepared for it.
We light this candle today to remind us that Christ is the Prince of Peace, the one promised from the beginning of the world. We thank God for the hope he gives us and for the peace he bestows.
Let us pray - O God of Peace, Emmanuel, we pray you send your light into our hearts. Help us to be ready for the day and the hour of Christ's appearing. Work in our hearts at this time and help us prepare ourselves for the peace that he brings - the inner peace that tells us that we are united with you and the outer peace which will come when he returns to judge the world. Bless our worship that it may be pleasing unto you, and bless us that we may prove to be your faithful servants. Amen.
Enjoy this Day of Peace.

Labels: Christmas, Day of Peace, Second Sunday of Advent