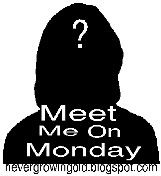 Questions
from
Java's
regular Monday Blog Hop.
1. What do you put on your hot dog?

Either it is mustard only OR mustard, chili, onions, shredded cheese. But the real question is not what I put on my hot dog - but where I like to eat it. My favorite place is either Nathan's in New York on Broadway before a play (did that once), in Central Park, or any street vendor in New York City.
2. Do you play Sudoku?

No, have tried, but it's beyond me. I think I must be more comfortable with words than numbers.
3. What is your favorite vegetable?

Grilled (or broiled) asparagus with garlic and parmesean cheese. A close second would be sugar snap peas.



4. Do you color your hair?

No, don't want to get into the expense of it. I have to confess I have tried it before. Once I tried to darken my hair and it came out looking black - a friend asked me if a raven had decided to live on my head. A Clairol hotline call was next.





5. What is your favorite brand of clothing?

The one that is on sale! The rule is: It has to fit, I have to LOVE it, and preferrably it is on sale.



It's blog hop Monday and you are invited to participate. Grab the questions and the link and hop on in!
Labels: bloghop, Meet Me on Monday, Sheila Siler